Valerie McCaffrey is the only artist I've ever met that admits to spending 20 years working in the wrong medium. But almost eight years ago she turned in her colored pencils and paint brushes and tackled her dream of being a full-time artist for something completely different: concrete.
It's a dream Valerie always strived towards: full-time artist. After graduating from the Maine College of Art in Portland, she spent her days as a kind of "art facilitator", working with people in hospice and with disabilities, and encouraging them to tap into their emotions through art. Valerie says she's always been fascinated by the connection between our minds and the things we produce with our hands. But even as she worked with people and art every day, all she wanted was to spend her time making it.
As emotions overcame her through the years, Valerie would take her own advice and express herself in artist's journals full of sketches and drawings. She filled pages and pages with drawings that expressed every range of feeling, and while she drew she says she felt a true "shift in energy" within her.
But what she'd created was too rough around the edges, too raw. For 20 years she'd struggle to turn those personal pages into art for others to enjoy and share. She tried painting, re-drawing, and even flat-out copying from her sketchbooks. But everything she did just felt "dead" to her. Mimicry didn't express how she felt about the original images, about the journals themselves.
It wasn't until she started working with concrete that Valerie could "liberate" her sketches from the sketchbook and "get them out in the real world."
"What was it about the concrete? I don't know," she tells me thoughtfully, staring anywhere but my microphone as we chat in a small attic studio space at her home in South Portland. Maybe that it was immediate, she wonders aloud. Just a few hours until forms were set and ready to carve. Maybe it was how inexpensive it was, freeing her to experiment without care for cost of materials. Maybe it was how concrete is the farthest thing from traditional art, forcing her to think outside the box.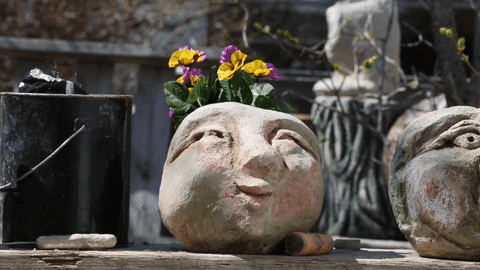 All Valerie knows is that when she started carving, something came to life. The faces she'd always wanted to share with the world now had solid form. She started out just hand carving the concrete, then started to add clay for further details. Eventually she made molds, allowing a certain kind of mass production. That's when she decided: Alright. This is it. Time to be a full-time artist. Time to take the leap.
"After 20 years I immediately tapped into something," she says with a burst of laughter at the contradiction. Garden Guardians, planters with faces full of peace, serenity and happiness, touched something in others that she'd always wanted to reach.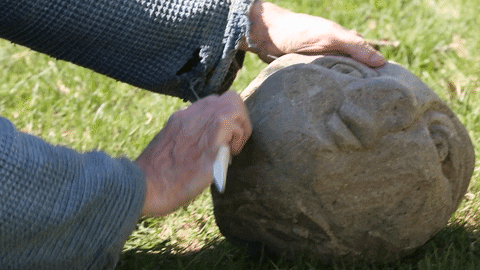 And now Valerie wakes up every morning and spends her day putting smiles on faces of all kinds. Living the dream.